Reading time – 57 seconds  .  .  .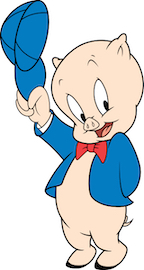 To quote Porky Pig: "Ah-bi-dee, ah-bi-dee, that's all, folks!"
The Supreme Court has just handed down its most blatantly political decision in a long time, or at least since the democracy killing Citizens United decision in 2010. Their stupefyingly bone-headed refusal to knock down blatantly obvious discrimination by North Carolina's legislature will have a destructive impact that will echo across the nation.
This case was about gerrymandering designed to strip voting rights and legislative power from the poor and from minorities. The Supreme Court has opened the door for unending, unearned political control by a diminishing white majority. Its decision will have devastating impact on millions of Americans for years to come and is truly the New Jim Crow.
To the 5 justices who made this happen, I have some snark: Your mothers must be very proud.
I can't do better than David Leonhardt's piece in Friday's New York Times. Click through and read it, and note his comments about the census, too.
BTW, the Times is not failing, as Emperor Trump would have you believe. It's having some of its best years ever. They're focused on stuff happening here on planet Earth, a concept of reality that doesn't seem to penetrate the information-proof walls of the East Wing living quarters, which serve as Trump's Twitter bunker. #FailingPresident.
————————————
Ed. Note: I don't want money or your signature on a petition. I want you to spread the word so that we make a critical difference. So,
YOUR ACTION STEPS:
Pass this along to three people, encouraging them to subscribe (

IT'S A FREEBIE!

).

Engage in the Comments section below to help us all to be better informed.
Thanks!
Copyright 2023 by Jack Altschuler
Reproduction and sharing are encouraged, providing proper attribution is given.