Reading time – 2:10; Viewing time – 3:14  .  .  .
America in the 1930s was anti-immigrant, anti-black, anti-Semitic and probably some other anti's. And of course we have a well documented history of excluding Chinese, Catholics, Irish, Italians – you name it and we've been against it at some time. The piece where I want to focus now, though, is the American attitude toward Jews before World War II.
Kristallnacht, a November night in 1938 of viscous Nazi violence against Jews, was seen as abhorrent by the vast majority of Americans. Yet later that same week, Gallup polled Americans about whether we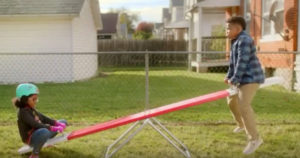 should open our borders to those seeking refuge from Germany and 72% said no. Two months later 67% of Americans opposed a bill to admit child refugees from Germany. We wouldn't even lift a finger to save children. It took the revelations of the Holocaust – 6 million people murdered – to reach a tipping point and begin to change public opinion.
Now we're facing a different cry for relief from persecution. Poor people from Central America are arriving at our southern border pleading for asylum so they won't have to go back to their war-torn, brutalizing countries where there is nothing to eat.
We've watched as this administration has cut aid to those countries, making conditions still worse. We've seen how this administration has slow walked applications for asylum, arrested border crossers and failed to properly provide for those it incarcerates.
We've heard the official hate speech and seen children separated from their mothers and fathers. This administration told us that this cruelty was a "deterrent" to more migrants coming to America. We've seen the reports of overcrowding of children in cages and of kids kept locked in vans for a day and a half. Now we're seeing Mexico being bludgeoned into housing migrants who are trying to find refuge in the U.S., while at the same time this administration uses this humanitarian crisis that it created to strong-arm Mexico into buying more U.S. stuff. Meanwhile, desperate asylum seekers suffer.
The question for us is this: When does it get so bad that all of us stand up and say "No more!" Where is that tipping point? How much suffering will be so much that it isn't just a bunch of do-gooders shutting down the Tornillo child prison, but the overwhelming majority of us call out our official cruelty and demand proper, humane treatment for these people?
"  .  .  .  for it is a habit of mankind to entrust to careless hope what they long for, and to use sovereign reason to thrust aside what they do not fancy." Thucydides
Perhaps our hoping for better isn't enough. Perhaps thrusting aside this savage reality we do not fancy isn't enough, either. Maybe it's time for action.
Late Addition
Senator Joseph McCarthy (R-WI) was a reprehensible fraud who ruined the lives of many Americans with his phony charges of them being, having been or having sympathy for communists. Among his famous dalliances from truth was the piece of paper he would brandish, claiming that on it was a list of names of known communists in the State Department.
The piece of paper was just a piece of paper. For all we know it was McCarthy's shopping list. McCarthy just used the convention as a prop to secure himself attention and fame by menacing others. He was eventually censured by the Senate and died a miserable drunk with hepatitis.
On Tuesday, President Trump pulled the same reprehensible fraud by brandishing a single folded sheet of paper taken from his breast pocket and waving it before members of the press, claiming it was the agreement just forged with Mexico. He wouldn't show the agreement because he would let Mexico make the announcement, he told us.
Just one thing: there is no new agreement with Mexico. The agreement was secured long ago – there's nothing new – and once again the great negotiator has achieved nothing except for laying yet another fraud on the American people.
                                                  ————————————
Ed. Note: I don't want money or your signature on a petition. I want you to spread the word so that we make a critical difference. So,
YOUR ACTION STEPS:
Pass this along to three people, encouraging them to subscribe (

IT'S A FREEBIE!

).

Engage in the Comments section below to help us all to be better informed.
Thanks!
Copyright 2023 by Jack Altschuler
Reproduction and sharing are encouraged, providing proper attribution is given.