Reading time – 2:04  .  .  .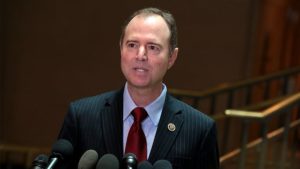 Chairman Adam Schiff
Speaking to the House A/V technician while covering his microphone and pointing toward the Republican Members of Congress who are not members of the House Intelligence Committee but are in the room:
Please turn off their microphones.
To all: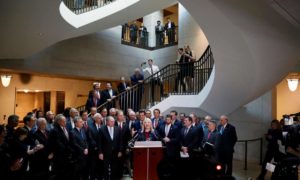 These proceedings have been invaded by people who don't belong here, several dozen members of Congress who are not part of these closed door hearings. It is to them that I address these remarks.
Your Animal House sit-in stunt may achieve some delay to these proceedings, but we will complete our work. What you are doing is not just rude and disrespectful. It is far more significant than that and I have three points to make to you.
First, your having brought your cell phones with you into these proceedings is a breach of national security because, as you know, your phone can be hacked whether it is turned on or off. That is why House rules prohibit you from bringing your phone into any hearing, which is to say, you've wantonly breached House protocol, too.
I recall distinctly the days when the Republican Party trumpeted its belief in and support for our national defense. Its members were staunch, toe-the-line champions of the security of our country and I wish that were still so. Your actions here today suggest that it is not.
Second, you know quite well that these hearings are closed door because the Attorney General seems to have become the attorney for this president instead of attorney for the country. He is unwilling to appoint a special counsel to investigate these matters. Were there a special counsel he or she would convene a grand jury in order to take depositions like those being taken here. And you know that all grand jury hearings are done in closed door sessions, just as this committee is operating. These hearings aren't secret – Republican Committee members are in attendance and are participating committee members at all times. And you also know that this is the way the Nixon and Clinton impeachment proceedings began. Odd that you object to the same practices today.
Finally, we are conducting this investigation because the rule of law and the Constitution itself are under attack – you know this quite well. So, I invite you to gather your children and grandchildren and tell them what you did to honor your oath of office when the rule of law was under attack. Tell them what you did when the call went out to protect and defend the Constitution. Let them know how stiff your spine was when your country called on you to stand and be counted.
Now it's time for you to leave.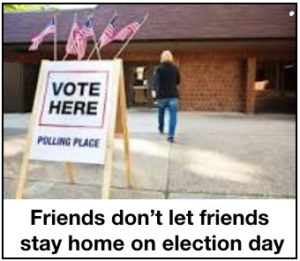 ————————————
Ed. Note: I don't want money or your signature on a petition. I want you to spread the word so that we make a critical difference. So,
YOUR ACTION STEPS:
Pass this along to three people, encouraging them to subscribe (

IT'S A FREEBIE!

).

Engage in the Comments section below to help us all to be better informed.
Thanks!
NOTES:
Writings quoted or linked from my posts reflect a point I want to make, at least in part. That does not mean that I endorse or agree with everything in such writings, so don't bug me about it.
Errors in fact, grammar, spelling or punctuation are all embarrassingly mine. Glad to have your corrections.
Responsibility for the content of these posts is unequivocally, totally, unavoidably mine.
Copyright 2023 by Jack Altschuler
Reproduction and sharing are encouraged, providing proper attribution is given.