Earth's tectonic plates have been put on notice that they are likely to be pushed back to where they belong.
Perhaps there are many who didn't pay attention or who even boycotted the inauguration, so they did not hear the words that were spoken or feel the integrity behind them. Nevertheless, the world has been told that a new banner is flying. Beneath it is another banner containing this pictograph:
The night when President Obama was declared the winner of the 2008 election, mixed with the joy and renewal of hope of that night, I felt the weight that was about to fall on that man's shoulders. We were headlong into the Great Recession, the likes of which few living Americans had experienced. It was a financial hole so deep that it affected the entire world. Perversely, within his first month in office Senate and House Republicans were daftly criticizing Obama for having failed to fully fix the financial crisis by then.
At the same time, we were enmeshed in two wars, both of which had been avoidable and which now were intractable, with no foreseeable exit. And it was clear that Obama would face nothing but fierce opposition from Republicans.
Perhaps you recall the reports of the Republicans who met at a restaurant on the night of his election and decided that their number one job was to "Make Obama a one-term president." Their focus wasn't to restore our national economy and get Americans back to work. It wasn't to end the wars and bring our troops home. It wasn't to form a more perfect union. Their celebration of our most recent exercise in democracy was to commit to obstructing progress and to regain power for themselves.
Obama passed the Affordable Care Act in his first two years, but not much more over the following 6 years, as a blizzard of Republican filibusters and dead letter legislation hampered any progress to overcome our enormous national challenges. Now, the challenges are even greater for President Biden.
There is the pandemic, our cratered economy, damaged international relations, compromised national security, the global climate threat, domestic terrorism and, oh yes, two intractable wars, plus much more. Biden's first two years better be greatly productive and felt strongly by the American people, or his remaining time in office could be stifled in the same way as Obama's. Refer again to the pictograph at the top right of this post.
From Ezra Klein's brilliant essay, Democrats, Here's How to Lose in 2022. And Deserve It:
But now Democrats have another chance. To avoid the mistakes of the past, three principles should guide their efforts. First, they need to help people fast and visibly. Second, they need to take politics seriously, recognizing that defeat in 2022 will result in catastrophe  .  .  .  And, finally, they need to do more than talk about the importance of democracy. They need to deepen American democracy.
Our nation is terribly sick, both medically and culturally. Not much, especially the economy, will get better until we stop the pandemic. Biden has rightly put that at the top of his to-do list, and doing so will meet Klein's first imperative of fast and visible benefit to the people. To accomplish that he and his team will have to do something Trump's team failed to do about the pandemic: deliver on the promise. No more bumbling. Making things more difficult is that Biden will have a lot of obstacles to overcome to get that or anything else done, and the Republican obstruction machine has already cranked up.
Now that a Democrat is in the White House they have suddenly discovered how awful deficits and debt are, just as they did in 2009 when Obama arrived. They didn't seem particularly interested in such things when George W. Bush started two wars and cut taxes or when Trump squandered $2 trillion to enrich already rich people. Their now-regained fiscal stinginess is one of their favorite obstacles to progress that they love to place in front of Democrats.
Sen. Josh Hawley (he of the power fist salute to American domestic terrorists) objected without cause to a Biden secretary appointment. I'm not in Hawley's head, but I suspect that he's hoping to become the inheritor of Trump's "base" and run for President on the White Supremacist ticket in 2024. There are plenty of other Republican senators and congressmen/women with equally overriding self-serving motives, who openly embrace extremist, hate-fueled conspiracy lies and who are just as power hungry.
With Chuck Schumer at the helm of the Senate we won't have to worry about a pile up of ignored legislation, like the stacks of folders of House-passed legislation in McConnell's office. Nevertheless, the filibuster remains for Republicans to use to stop necessary things from happening. Eliminating it will be difficult and doing so is a double edge sword that may prove to be harmful in the long term. But with it in place for obstructionists to use, all we're left to count on is a sufficient cadre of Republican senators who will put country first. Bear in mind that hope is not a strategy and, by itself, simply can't get the job done.
What can help, of course, are executive orders, many of which Biden signed in the afternoon following his inauguration. It's a good start toward neutering the enormous list of Trump's unscrupulous and unconscionable actions.
Ending the pandemic and embarking, for example, on a Rooseveltian infrastructure program will heal us medically and put Americans back to work, even as it will require bi-partisan cooperation. It will be a huge step toward the culture change and economic recovery we so desperately need.
That alone won't cool off all the red hot, militant crazies, but people with money in their pockets are far less angry, not least because they feel a sense of dignity and of being in control of their own lives. Re-engaging everyone in such personal ways will be fast and visible to the public and will strengthen our entire country.
We hold the promise in our hands. It's up to us to make that promise come alive. In the words of Amanda Gorman, "If only we are brave enough to be it."
That's what's next.
For more, be sure to read Sheila Markin's post here.
———————
Finally
From poet and songwriter Leonard Cohen: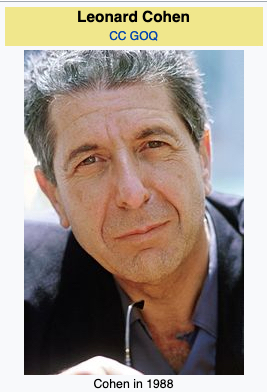 Ring the bells that still can ring.
Forget your perfect offering.
There is a crack in everything.
That's how the light gets in.
These are hard times and it's difficult to know what to do and where to start. What is important is simply that we start. That we ring the bells that still can ring. We will never run out of naysayers, vapid criticism and self-serving idiocy. What's important is that we refuse to let such things impede progress.
Follow Leonard Cohen's advice. Today is a good day for that.
—————————————-
Ed. note: We need to spread the word so that we make a critical difference, so,
Did someone forward this to you? Welcome! Please subscribe and pass this along to three others, encouraging them to subscribe, too. (IT'S A FREEBIE!) Use the simple form above on the right.

Engage in the Comments section below to help us all to be better informed.
Thanks!
The Fine Print:
Writings quoted or linked from my posts reflect a point I want to make, at least in part. That does not mean that I endorse or agree with everything in such writings, so don't bug me about it.
Said John Maynard Keynes, "When the facts change, I change my mind. What do you do, sir?" So, educate me and all of us. That's what the Comments section is for.
Errors in fact, grammar, spelling and punctuation are all embarrassingly mine. Glad to have your corrections.

Responsibility for the content of these posts is unequivocally, totally, unavoidably mine.
JA
Copyright 2023 by Jack Altschuler
Reproduction and sharing are encouraged, providing proper attribution is given.