Reading time – 2:52  .  .  .
This list of President Joe Biden's To-Dos starting in the afternoon of January 20, 2021 is offered in no particular order of importance except for the COVID-19 section, which is urgent. Be clear that these items are solely about recovering from Trump destruction. The obvious point here is that this is only a partial list. Please provide your additions in the Comments section below.
——————-
Provide strong, clear leadership for scientific, tough minded practices to deal with the pandemic and end it:
– Restore public faith and confidence in national leadership by consistently telling the public the truth. No denials of reality, no anti-science fantasies, no demonizing of those with differing views.
– Fully fund nationwide testing and contact tracing and authorize lock downs where they are needed.
– Restore full status to the CDC.
– Restore funding for the WHO.
– Provide dependable financial support for workers displaced by the pandemic. No more leaving Americans on the brink of disaster because action was delayed by Congress and the president until the last second.
– Apologize to Dr. Anthony Fauci and the people of the CDC.
– Provide funding for schools to create and fully implement the dramatic evolution in teaching made necessary by COVID-19.
– Create childcare for children of working parents for whom school was their resource before COVID-19.
– Restore COVID-19 funding to public schools from the private schools to which it was diverted by Betsy DeVos.
Rejoin JCPOA – the Iran no-nuclear agreement – if it can be resurrected.
Withdraw support for Israel to annex West Bank areas.
Call out Saudi Arabia and Mohammed Bin Salman individually for the brutal murder of Jamal Khashoggi. Consider sanctions.
Expand Obamacare to cover all Americans.
Restore the full Voting Rights Act.
Rejoin the Trans-Pacific Partnership – "TPP" – so that we don't cede half the planet to the Chinese.
Start rebuilding infrastructure. Do you remember those "shovel ready" projects Congress refused to fund during the Obama administration? Trump has done none of it.
End the attack on the Postal Service and initiate legislation to remove the 75 year pension funding requirement that hamstrings that service.
Unwind Trump and Bush era tax cuts for the wealthy and create sensible tax reform.
Immediately remove all "acting" officials and replace them with qualified, Senate approved people
Enact laws to prohibit federal "goon squads" from showing up in any state or city unannounced, unrequested, unidentified, unwanted, unconstitutional and unlawful:
– Require all federal policing individuals and vehicles to be fully badged and tagged for easy identification when used for crowd control or for protection of federal property. This is not intended to apply to undercover agents.
– Require federal officers to declare a clear statement of cause when apprehending protesters; e.g., "You're under arrest for ___________ ."
– Require all federal officers to fully Marandize those they apprehend.
– Prohibit federal policing individuals from all actions other than directly protecting federal property while on federal property.
– Make it mandatory to secure a request and agreement from an appropriate state and/or local official for the deployment of federal personnel and equipment in any state or city for any purpose except when a state and/or city itself is violating the Constitution or acting illegally (Think: Little Rock Central High School in 1957; University of Alabama in 1963).
Biden's Attorney General action list:
– Prosecute William Barr for whatever comes to mind.
– Investigate all Trump Department heads, including Betsy DeVos, Sonny Purdue and all the rest for featherbedding and other illegal behavior.
– Indict Trump for his obvious criminal behavior, including many violations of the Emoluments clause, extortion in the Ukraine scandal, multiple counts of obstruction of justice, abuse of power and all the rest.
– Prosecute everyone responsible for the actions of the federal "goon squads," actions that include kidnapping, beating, shooting, tear gassing and flash banging peaceful protesters in Washington DC and in Portland, OR.
– Review Trump's commutation of the sentence of Roger Stone for illegality, specifically because the commutation was part of covering up Trump's illegal behavior. Restore punishment for Stone if possible.
Review Trump's federal judge appointments for conflicts, ineptitude and anything else that can be used to remove those who don't belong. This is solely about bad appointments, not their political views.
Create law that will prohibit a future Attorney General from becoming the president's Roy Cohn; i.e. the president's attorney instead of ours.
Remove the conspiracy theorists from top positions in the Pentagon.
Challenge the DOJ memo claiming that a sitting president can't be prosecuted for crimes while in office.
Apologize to our 16 intelligence agencies for 4 years of Trump's insults, undermining, devaluing and for his jamming unqualified cronies into positions of power in these organizations.
Remove all former lobbyists from the Executive Branch and create law that prohibits former lobbyists from participating in any part of government where the industry they lobbied for is involved.
Replace the Trump/Barr suck up district attorneys and set these offices free to prosecute Giuliani, Lev & Igor, Trump family members and, of course, Trump himself.
Undo foreign policy unforced errors, including:
– Mend fences with allies, including NATO member nations, South Korea, Australia, Israel, Mexico – who else?

– Apologize to Angela Merkel, Justin Trudeau, Emmanuel Macron, the Kurds, Volodomyr Zelensky and the leaders and the people of all the "shit hole countries" for Trump's insults, rudeness and harm.
– Apologize to Duško Marković, former President of Montenegro, for Trump shoving him aside for a NATO photo op in 2017.
– Apologize to our present and former State Department professionals, including Lt. Col. Vindman, Ambassador Marie Yovanovitch, Dr. Fiona Hill, Gordon Sondland, Mr. Kent, Ambassador William Taylor, and all those who put their careers on the line to tell the truth at the impeachment hearings. Honor them publicly.
– Give a firm, face-planted stiff arm to Xi, Duerte, Putin, Erdoğan and Kim. Make our opposition to their tyranny clear.

– Rebuild our Department of State. Lure back the wonderful people who were forced out or quit out of conscience. Trump's actions are a George W. Bush déjà vu nightmare and they harm us internationally.

– Examine support for the Kurds and do what must be done to reverse our betrayal of this ally.
Restore Lt. Col. Vindman to active status, rank and post if he desires it. Restore his brother to his former post if he desires it.
Levy stronger and more painful sanctions on Russia for invading the Ukraine, their meddling in our 2016 election, their 2020 election meddling, attempting to steal vaccine research and offering/paying bounties to Taliban fighters to kill Americans.
Create and quickly implement a U.S. war on climate warming:
– Rejoin the Paris Climate Accord.
– Join the international agreement to combat deforestation.
– Establish federal incentives for installation of renewable energy.
– Establish federal incentives for clean energy innovation.
– Establish a path for re-education of coal miners – no, they won't all become coders. Then end the use of "beautiful, clean" coal for energy production.
– Establish emission control policies, such as fuel mileage requirements.
Lead fundamental police policy change.
Install Supreme Court Justices who aren't conservative – create balance.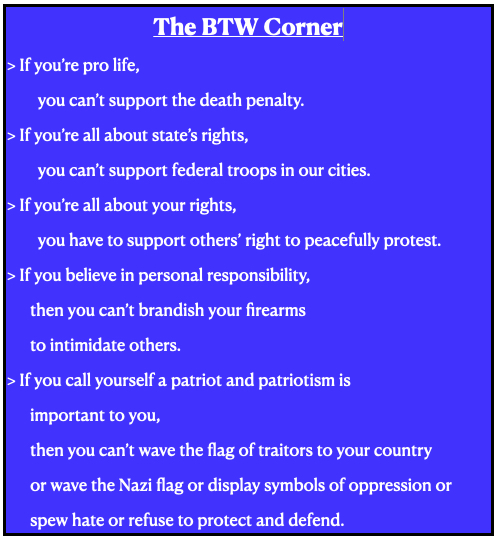 Formalize the elimination of state sponsored voter suppression. Reverse the abuses of the past.
Create gun law reform, like 100% background checks and limits on the size of personal arsenals. Make illegal high capacity magazines, assault weapons and bump stocks and repeal the right of concealed carry, etc. These measures are overwhelmingly supported by the American people.
Do comprehensive immigration reform – finally!
– Enshrine DACA into law so that the next Republican hate monger can't undo it with an Executive Order.
– Open our system for prompt handling of asylum seekers.
– Reunite detained immigrant children and parents and close the concentration camps.
– Establish clear criteria for immigrating into the U.S. that is actually Constitutional.
Many thanks to brother Mike for starting this discussion.
——————————-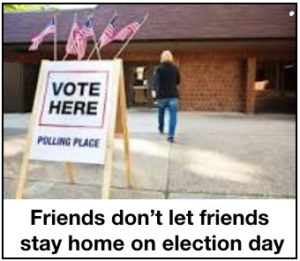 Ed. note: We need to spread the word so that we make a critical difference, so
Pass this along to three people, encouraging them to subscribe (IT'S A FREEBIE!).

Engage in the Comments section below to help us all to be better informed.
Thanks!
The Fine Print:
Writings quoted or linked from my posts reflect a point I want to make, at least in part. That does not mean that I endorse or agree with everything in such writings, so don't bug me about it.
Sometimes I change my opinions because I've learned more about an issue. So, educate me. That's what the Comments section is for.
Errors in fact, grammar, spelling and punctuation are all embarrassingly mine. Glad to have your corrections.

Responsibility for the content of these posts is unequivocally, totally, unavoidably mine.
JA
Copyright 2022 by Jack Altschuler
Reproduction and sharing are encouraged, providing proper attribution is given.