Reading time – 2:46  .  .  .
President Trump has not just bungled facts, spewed false happy talk and continued to lie his way through his presidency and this pandemic. He has also made clear that he is not responsible for anything that's happening if he thinks it might make him look bad.
He told us that he's not responsible for our total lack of preparedness for COVID-19 or for its reach or for the severity of its impact, this in the face of his having completely disbanded our Pandemic Response Team and cut funding for the CDC in 2018. The people he canned are the very people who made up the very team that could have minimized our suffering due to COVID-19, had they been in place and had they proper funding and authority. Of course, the President would also have had to listen to them, follow their advice and not say stupid stuff. There was never much of a chance of any of that happening.
So, here's a little snark from last Sunday's post, in case you missed it. It is not offered because of the snark; it is offered because this is our reality.
As Granny struggles in her hospital bed, gasping for just a little more air from her respirator for her pneumonia-soaked lungs, her MAGA hat wearing family is gathered around her. They know this is the end and they weep for their love of her and for their looming loss. Suddenly, the lights go blue-black, the walls begin to shake, and the ceiling speakers boom in Darth Vader's voice: "It is your des-ti-ny." And they tremble in their horror and their fear, because all at once they realize that this is what they chose.*
It didn't have to be this way for Granny, but we made it this way. We made this our destiny.
Last Friday the President bragged about non-existent tests for COVID-19 and about drive-thru testing sites that are nothing but fantasy. He has no plans to enlist the Army Corps of Engineers to transform buildings to meet the enormous hospital capacity we'll need in just a couple of weeks. There's no action to re-purpose unused manufacturing capacity to build the ventilators, hospital protective gear or anything else that is already in desperately short supply. The result of this ineptitude is that more people will die for lack of testing and care.
The differentiator that is invisible to Trump is that this isn't a reality TV show, a make believe land where he can make up stuff and it becomes so, where everyone goes out for drinks after the taping. This isn't a Hollywood movie where murdered characters get up after doing a scene and go home at the end of the day. This is real life and death and the people who will die from this virus will never go out for drinks or ever go home again because they will stay dead. Worse, more will die because of Trump's ineptitude and dishonesty, including Granny.
This pandemic is completely over the head of this President and this time it isn't a little thing like a trillion dollar gift to his rich pals. This time it is life or death for countless Americans. He is incompetent to discharge the duties of his office, including protecting the citizens of this country.
Back to the Star Wars metaphor:
Both Darth Vader and the evil Emperor told Luke Skywalker that joining with them was his destiny. With just the force of his will he refused both of them and that destiny and eventually set things right throughout the galaxy. We can do that. We can refuse the destiny of so many Americans gasping their last breaths due to COVID-19. We can lead our country and the world to set things right.
It's about our choices as a nation and the consequences our choices bring. We can make our own des-ti-ny. That's always been the American way.
—————————–
Finally, the people of Italy are just ahead of us in dealing with this killer disease. Here is a video message from them that you're sure to want to watch .
Second finally, Mike Pence proudly claimed on Monday that we have a million COVID-19 test kits out right now. Great – perhaps that's true. Only 319 million to go.

Really finally, it's St. Patrick's Day. Large gatherings are prohibited, so drink a Guinness in your kitchen and be your own parade.
---
* The legal thing: The Empire Strikes Back (from which this clip is taken) and all other movies are copyrighted material. I pay royalties to be allowed to use movie clips legally both here and in my leadership keynotes and workshops. Just thought you might like to know.
————————————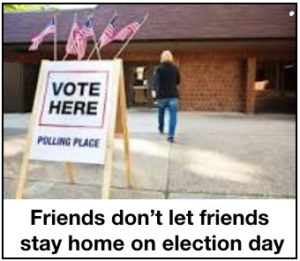 Ed. note: We need to spread the word so that we make a critical difference, so
Pass this along to three people, encouraging them to subscribe (IT'S A FREEBIE!).

Engage in the Comments section below to help us all to be better informed.
Thanks!
The Fine Print:
Writings quoted or linked from my posts reflect a point I want to make, at least in part. That does not mean that I endorse or agree with everything in such writings, so don't bug me about it.
Sometimes I change my opinions because I've learned more about an issue. So, educate me. That's what the Comments section is for.
Errors in fact, grammar, spelling and punctuation are all embarrassingly mine. Glad to have your corrections.
Responsibility for the content of these posts is unequivocally, totally, unavoidably mine.
JA
Copyright 2023 by Jack Altschuler
Reproduction and sharing are encouraged, providing proper attribution is given.