Reading time – 4:41; Viewing time – 6:43  .  .  .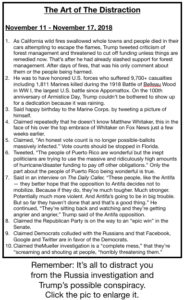 First they were the "silent majority." Then they were "values voters," which seemed to imply that those who didn't see things exactly their way had no values. Now they're "the base" or "Evangelicals." Regardless of the label, they were and are focused on being a minority holding power over the heathen majority as though it's a religious imperative. It's a most exclusionary position, as in "I've got it and you can't have it." Whether it's citizenship, civil and voting rights, power, superiority – it doesn't matter. It's all about we-who-are-right-and-good-and-godly versus all the people who are wrong and less-than and probably unpatriotic, too. Whatever advances their agenda is okay.
Paul Weyrich, a conservative commentator and co-founder of the Heritage Foundation, a conservative think tank, declared the Republican marching orders in August, 1980 while speaking to the Religious Roundtable, saying,
"I don't want everybody to vote. Elections are not won by a majority of people, they never have been from the beginning of our country and they are not now. As a matter of fact, our leverage in the elections quite candidly goes up as the voting populace goes down."
Republicans have been pursuing Weyrich's repressive dictum tied to a fairy tale of religious purity ever since. They've made claims of massive voter fraud without any evidence to suggest that it even exists and have warned of dire consequences to our country if the "wrong" people are allowed to vote. They've quite ably reduced opposing voter turnout by:

– Purging voter roles for spurious reasons, primarily of people of color and the poor
– Purging voter lists of people only because they haven't voted in the past few elections
– Closing offices, making it difficult to register to vote
– Closing polling places making it difficult to vote
– Challenging ballots due to minor errors, like omitting a middle initial
– Dirty tricks, like sending mailings with the wrong date or place for voting
– Requiring IDs that many poor people simply don't have
– Refusing to accept IDs that many people do have
– Rejecting voter registrations on ridiculous technicalities
– Redistricting (gerrymandering) that effectively neuters votes
– Claiming voter fraud with absolutely no evidence of it having occurred
– Packing the courts with right wing judges who allow these perversions to stand
Voter suppression advances the control and wealth of the minority to the detriment of the majority, which perverts our democracy. Right now there is no equivalency on the Democratic side, although there has been in the past. But there is perversion equivalency somewhere else: it's the Big Money influence on our politicians and our democracy. Now, that's an equal opportunity perverter.
There's a reason you're paying crazy high prices for your meds. It's because the pharmaceutical industry lobbies in the form of direct and indirect cash support for politicians. That monetary influence reduces their inclination to do anything that the big companies wouldn't like, such as opposing mergers and acquisitions that reduce competition. The near-monopoly created by those mergers allows and even encourages med makers to raise prices. And it's actually worse than that.
In economic terms, pharmaceutical price hike damage is compounded by what's called inelastic demand. That means that your purchases won't be reduced if the price goes up because your life depends on those meds.
We have plenty of anti-trust (i.e. anti-monopoly) laws on the books, but they're pretty much ignored. There was the breakup of AT&T in the 1980s (which has by now been largely negated) and the Microsoft suit in the 1990s, but not much else for decades. Meanwhile, the mergers of major companies continue.
Many of our air carriers have merged, like Continental being absorbed by United and US Air was bought by American and, unsurprisingly, ticket prices are rising. And if the T-Mobile and Sprint merger is allowed to happen, and regardless of which carrier you now use, what do you suppose that will mean for your cell phone bill? That's right: it will go up.
And it's not just your financial burden that might be affected.
The gargantuan size of companies resulting from allowing already big companies to merge can be a contributor to a decline in democracy and even a rise of fascism. Here's how it works.
When we feel powerless, we look for someone to lead us back to a feeling of being in control of our lives and our country. But the autocratic leader we choose then partners with the huge companies to get their loyalty and support. In return, those companies get to avoid accountability for their actions and we pay the price.
In the end, we're left even more powerless and our democracy will have been perverted. Read Tim Wu's piece "Be Afraid of 'Bigness.' Be Very Afraid." Bigness – monopoly – warps government, which perverts democracy and invites autocracy, which steamrolls you.
This discussion wouldn't be complete without making clear that all of our perverting craziness is for the purpose of the ultra-wealthy few keeping and grabbing even more power by undermining our democracy. The drum major for that band is, of course, Donald Trump. But all those denials of rights of our citizens are part of the perversion.
It's in Trump's interests to kneecap the system that's in place and to diminish those in his path. He went on a tweet storm last week bashing Robert S. Mueller and the FBI. You owe it to yourself to review CNN's clear-headed, examination of what he tweeted. As you read it, be clear that his is not just a temper tantrum. It's a perversion of our democracy.
————————————
Ed. Note: I don't want money (DON'T donate) or your signature on a petition. I want you to spread the word so that we make a critical difference. That's the reason for these posts. To accomplish that goal requires reaching many people, so:
YOUR ACTION STEPS:
Pass this along to three people, encouraging them to subscribe (IT'S A FREEBIE!). No subscriber information is ever shared with anyone, anywhere, any time.

Engage in the Comments section below to help us all be better informed.
Thanks!
Copyright 2023 by Jack Altschuler
Reproduction and sharing are encouraged, providing proper attribution is given.