Were I twenty years younger and living where there is a Republican senator or congressperson I would run for office in 2022. I'm licking my lips at the idea of running against any fool Republican who voted against the American Rescue Plan, which includes every Republican in Congress. By November 2022 it will be the single most positive and popular thing to impact the voting public in many decades and its popularity will climb as people get checks, vaccinations. jobs and their kids go back to school. Please, somebody, stuff me into the Yungr Machine so I can become a generation younger and run against an R in the mid-term election.
.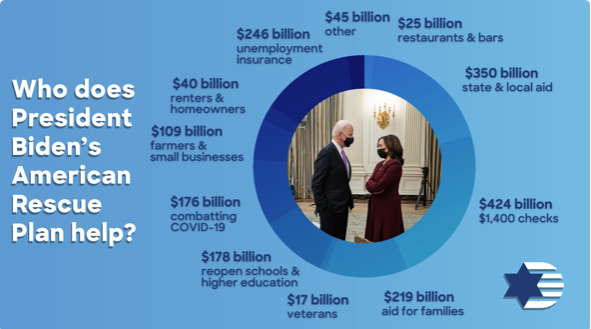 Passing the American Rescue Plan is a huge step in delivering what Americans want and desperately need. It has a 76% approval rating – over 60% of Republicans like it – and those numbers are going nowhere but up. It's the kind of thing that makes people say, "Hey, this is pretty good stuff – these guys actually can deliver." Some will say quite reasonably, "It's about damn time," and, of course, they'll be right. We've dragged feet for decades on any kind of benefit package that actually helps working people and our most desperate.
This is so good that even stogy economists, like those at Goldman Sachs, as well as non-stogy Paul Krugman, are predicting 7.7% growth in GDP, and that's nothing but good for everyone.
The key political play is for the Dems to keep the Plan properly framed and its benefits in front of voters for the next four years. That's critical, because Trump will try to steal the glory by claiming that "only he" could have delivered Operation Warp Speed. Look for that BS coming soon to a communication near you.
Now imagine Biden delivering an infrastructure bill, a critically needed updating and rebuilding of our national foundation that politicians have been wagging tongues about and have steadfastly avoided tackling for at least 40 years. This will be a WPA-like package that puts millions more Americans to work with good wages and benefits and the self-respect that comes with that. That will be next on Biden's playlist and, like the American Rescue Plan, it will be gigantically popular.
Big projects are what are needed for our big challenges. This is very much like the time of the Great Depression, in that there are big crises afoot, which opens a space for a strong leader with the right message to emerge and champion serving the people. Delivering on that opportunity will cement Biden as the right guy for our time and perhaps the cultural and economic successor to FDR; hence, the title, "FDB."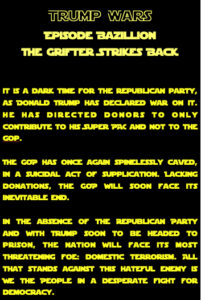 Republicans know and fear this, so they especially want to oppose an infrastructure plan, because its popularity would likely portend 8 to 12 additional years of a Democrat in the White House and Democrats controlling Congress, too. That's why they are scratching and clawing to keep the filibuster. They are desperate to prevent its modification so that they can continue to submarine every Democrat and every Biden effort. Their motto:
O

b

s

t

r

u

c

t

i

o

n

Я

U

s
They are all about stopping anything that is good for We the People because that prevents Ds from having a win. They think that will put them in power. Too bad for you.
That is why Democrat efforts to de-fang the filibuster and prevent Republican obstructionism is so important to our nation. Read this to understand fully.
Republican legislators refuse to be responsive to the needs and desires of the American people, but they still want power. They ache for the appalling thrill of minority rule. They are unable to compete on policy, so they're waging a war using cultural divisiveness, fantastical lying, gerrymandering and overt voter suppression. Sadly, in their complete absence of even a single idea of substance for We the People, they're now using their lofty Congressional status to attack Dr. Seuss and Mr. Potato Head. Really.*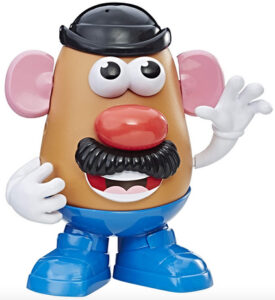 If you believe in majority rule, you better get into the fight to limit or eliminate the filibuster.
Fun Contest
There's red wine, white wine and Republican whine, and they have already started their whining campaign about the American Rescue Plan. They are claiming that it's full of "pork barrel spending." They are wailing great cries of woe and rending their garments in anticipation of a fantasy mortal hog snort to our nation. This is exactly like Trump and Republican accusations of voting fraud in the 2020 election, in that in neither case are they able to point to even a single example of the horrible thing they decry. All they have are false accusations projected at spit-spewing volume.
Which brings to mind the title and key lyric of a fine blues tune:
Your Mind Is On Vacation (and Your Mouth Is Working Overtime)
So, the contest is to find an example of the pork that Republicans claim is in this bill. Submit your contest entry in the Comments section below. The contest winner's name will be attached to a pork chop that will be sent to the Congressional pork whiner of his/her choice.
————————–
*Tucker Carlson responded to President Biden's Thursday speech, wherein the President offered hope that we will be able to gather with friends and family on the Fourth of July. Carlson said, "This is a free country. How dare you tell us who we can spend the Fourth of July with?" He's quite good at indignation.
That empty headedness is what passes for thoughtful Republican commentary in a pandemic.
Okay, I accept your criticism that Tucker Carlson is anything but thoughtful. So, instead consider applying to him the blues tune title above.
—————————————-
Ed. note: We need to spread the word so that we make a critical difference, so,
Did someone forward this to you? Welcome! Please subscribe and pass this along to three others, encouraging them to subscribe, too. (IT'S A FREEBIE!) Use the simple form above on the right.

Engage in the Comments section below to help us all to be better informed.
Thanks!
The Fine Print:
Writings quoted or linked from my posts reflect a point I want to make, at least in part. That does not mean that I endorse or agree with everything in such writings, so don't bug me about it.
Said John Maynard Keynes, "When the facts change, I change my mind. What do you do, sir?" So, educate me and all of us. That's what the Comments section is for.
Errors in fact, grammar, spelling and punctuation are all embarrassingly mine. Glad to have your corrections.

Responsibility for the content of these posts is unequivocally, totally, unavoidably mine.
JA
Copyright 2023 by Jack Altschuler
Reproduction and sharing are encouraged, providing proper attribution is given.