Reading time – 2:49; Viewing time – 4:01 .  .  .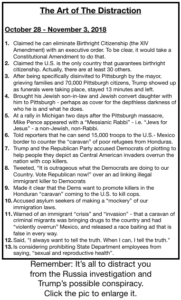 – with a special message from Carl Reiner

VOTE!
Everything else is secondary. Read Tom Friedman's piece – he explains it better than I can.
Just a few more comments.
Trump showed up on that enormously painful day after having been asked to stay away by the Mayor of Pittsburgh, the rabbi of the synagogue where 11 people were killed and 6 were injured and 70,000 residents of Pittsburgh (over 23% of the city's population). He was specifically dis-invited by the grieving families, but he showed up anyway. Really, though, why would he accede to the wishes of those grieving people, when he has a photo-op moment? Everything is always about Trump, regardless of the consequences to others.
Gail Collins wrote of Trump that, "His rhetorical high point probably came when he went to the synagogue where 11 people were murdered and didn't say anything." Translation: Every time Trump opens his mouth something bad comes out.
Last week Trump released a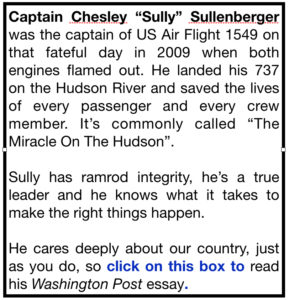 45-second ad that is blatantly racist and lacks even the slightest hint at subtlety. It is bald faced fear mongering. Except for the assertion that Luis Bracamontes is an illegal immigrant convicted of killing two cops, every other statement in the ad is false. What is noteworthy is Trump's having yet again shown us that there is no bottom to his low.
Trump and the Republicans on the Senate Judiciary Committee lied and cheated their way to the confirmation of Brett Kavanaugh to the Supreme Court. When Trump was asked about his lying throughout the process, he told a reporter, "We won" – that's all that mattered.
Now you know every thing you need to know about Trump. Everything is solely about Trump winning. Protecting our country and preserving our democracy mean nothing to him. Getting more power and wealth for Trump is all that matters. Truth, reality, propriety, morality, honesty, rules, impact on others – none of it matters because everything is always about Trump getting more of what he wants. That's his reason for going to Pittsburgh when he was specifically asked not to come. That's how we get a blatantly dishonest, 45-second fear mongering, anti-immigrant ad 5 days before the mid-term election. That's how Brett Kavanaugh, accused by multiple women of sexual assault, makes it onto the Supreme Court. Clearly, for Trump the end
justifies the means. And the means are the manipulation tools he uses without regard for the suffering he causes others and the damage he does to our democracy.
The destruction of democratic America and the establishment of Trump as autocrat is what he is working to create every day. And that is the America our spineless Republican Congress is allowing to come about through its cowardice and refusal to check Trump.
And that is why there is only one message:
VOTE!
Here's Carl Reiner's message for you:
I'm not customarily or historically a partisan. I care about issues and principles. If you must, sneer at me as unrealistic and disparagingly call me a Boy Scout. No problem here. But this election comes so plainly in a desperate moment for our country that most issues and policies are at best secondary. The only issue on which to focus is to save our democracy, and you can't do that with sniveling, cowardly Republicans controlling Congress.
Vote for Democrats who will stop Trump's destruction of our

democracy.
Vote for Democrats who will begin to restore the underpinnings of our democracy that Trump has compromised.
VOTE!
———————–
Here's another message from a lifelong Republican. Have you noticed how many have the same message for you? Have you noticed how many lifelong Republicans have left that party because the party left them and no longer remotely promotes their values?
————————————
Ed. Note: I don't want money (DON'T donate) or your signature on a petition. I want you to spread the word so that we make a critical difference. That's the reason for these posts. To accomplish that goal requires reaching many thousands of people, so:
YOUR ACTION STEPS:
Pass this along to three people, encouraging them to subscribe (IT'S A FREEBIE!).
Engage in the Comments section below to help us all be better informed.
Thanks!
Copyright 2023 by Jack Altschuler
Reproduction and sharing are encouraged, providing proper attribution is given.